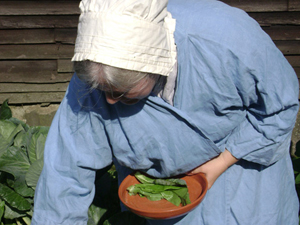 Experience the past with these ongoing hands-on activities: dress in 18th century clothing; play with old-time toys; card and spin wool; read from a hornbook; write with a quill pen; make a tavern game; carry buckets; find out what's for dinner in a 1700's kitchen; and mind your 18th century manners!
The "Indian House" was built in 1929 as a replica of the famous 1699 Ensign John Sheldon House. Located at 107 Main Street, the house is a few doors north of the Deerfield Inn, on the same side of the street.
Indian House Children's Museum will be open weekends August 1st through October 12th, 11 am to 4:30 pm. Admission is a choice on the Memorial Hall Single Building ticket. All others: $6 for adults; $3 for students (ages 13-18); children 12 and under are free. The door is kept locked, please ring bell for admission.
PLEASE NOTE: There will be a special FREE ADMISSION DAY on Monday, October 12th (Columbus Day), the final day of the season at Indian House, as a thank you to our patrons. Memorial Hall Museum is NOT open that day.
Note to Teachers: The Indian House is available for field trips. More information here.