Emily St. John Mandel's 2014 novel is set in a dystopian post-pandemic world. PVMA chose it from a list of NEA Big Read offerings before COVID-19 hit. What caught our attention about this book, as we were planning our 150th anniversary celebration, was a museum that started in an airport where a group of stranded travelers survived and formed a community. Our Memorial Hall Museum is, in a way, like the novel's 'Museum of Civilization,' with many objects from the past that have little or no use in our modern world. Reflecting on old and new worlds—before and after—as Station Eleven does, is what history museums do! This novel and our organization's anniversary seemed a perfect match. Now that we're experiencing an actual pandemic, the NEA Big Read of this fictional story provides an opportunity for local communities to discuss our real pandemic experience, as well as the role the arts play in our lives (a central theme in Station Eleven).
PVMA is one of 84 communities nationwide awarded an NEA Big Read grant for 2020-21. An initiative of the National Endowment for the Arts in partnership with Arts Midwest, the NEA Big Read broadens our understanding of our world, our communities, and ourselves through the joy of sharing a good book. From late March through November, our community will explore the novel's themes with a full calendar of events including a virtual Conversation with Emily St. John Mandel on Tuesday, April 27th at 7 pm. This is PVMA's 7th NEA Big Read!
For more information or questions, contact sdamkoehler@deerfieldmuseum.org or call 413-774-7476 ext. 100.
About Station Eleven:
From the NEA Big Read Overview (learn more about the book and author here):
Station Eleven, Emily St. John Mandel's fourth novel, won the Arthur C. Clarke Award, was a finalist for the National Book Award and PEN/Faulkner Award, was an Amazon Best Book of the Month, and was named one of the best books of the year by more than a dozen publications. It's been translated into 27 languages. "Equal parts page-turner and poem" (Entertainment Weekly), the novel is set 20 years after a devastating flu pandemic destroys civilization as we know it. A woman moves between the settlements of the altered world with a small troupe of actors and musicians until they encounter a violent prophet who threatens the tiny band's existence. "Possibly the most captivating and thought-provoking post-apocalyptic novel you will ever read" (The Independent London). "Think of Cormac McCarthy seesawing with Joan Didion … Magnetic" (Kirkus starred). "It's hard to imagine a novel more perfectly suited, in both form and content, to this literary moment" (The New Yorker). "I kept putting the book down, looking around me, and thinking, 'Everything is a miracle'" (National Public Radio).
Back to NEA Big Read: Pocumtuck Valley – Events page here.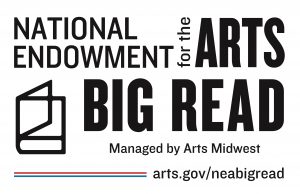 NEABig Read is a program of the National Endowment for the Arts in partnership with Arts Midwest.