.
SKILLED HANDS



AND HIGH IDEALS:
The Arts and Crafts
Movement in Deerfield
.
Inspired by the Arts and Crafts Movement and the venerable collections at Memorial Hall Museum, a group of visionary women transformed Deerfield into one of the nation's leading crafts centers.
The new exhibition at Memorial Hall Museum, Skilled hands and high Ideals, traces historic and artistic themes of the social and design reform movement that encouraged handcraftsmanship, simplicity in design, and integrity of materials. Deerfield women worked alongside their neighbors to learn crafts, set up shops in their front parlors, and exhibit their work locally and nationally.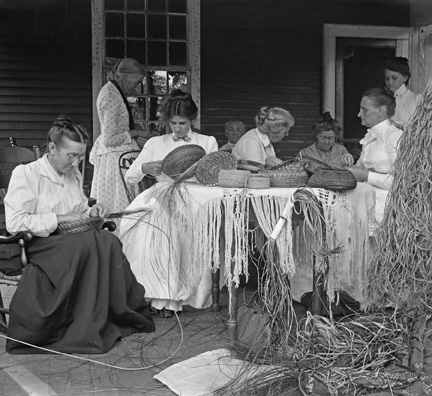 Embroideries by the Deerfield Society of Blue and White Needlework 1896–1926; metalwork, furniture, basketry, weaving, netting and tufted work, and photography by the Society of Deerfield Industries 1901–1921; and Deerfield Crafts 1921–1950 are featured in the exhibition along with stories about the craftswomen and men; period photographs by Frances and Mary allen of crafters and their crafts; examples of craft processes; and internet access to PVMA's new website, The Arts and Crafts Moment in Deerfield.
Skilled Hands and High Ideals is now open to the public at Memorial Hall Museum. The publication written by Suzanne L. Flynt, Poetry to the Earth: The Arts and Crafts Movement in Deerfield, is also now availble.