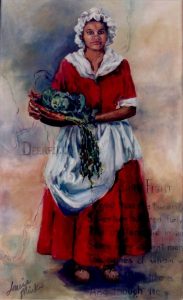 PVMA is committed to help voice the unheard and little known lives of New England's African Americans and Afro-Indians, free and enslaved, through our on-going African Americans in Early Rural New England (1695-1783) project, now in its 27th year.
American students learn very little about the many significant roles played by African Americans in what is often called the birthplace of American freedom—colonial and revolutionary Massachusetts. Yet the trade in African captives undergirded New England's maritime commercial development, and African Americans in slavery and freedom made essential contributions to New England life as artisans, laborers, poets, writers, soldiers, and ministers. Knowing this history is key to building cross-racial and cross-cultural understanding today.
In 1994, PVMA hosted a full year artist-in-residence program that produced portraits depicting historical and contemporary African Americans in our region, which continues to tour area schools and libraries. This was the launch of the ongoing African Americans in Early Rural New England project.
In 1998, African American history was one of four featured exhibits in our American Centuries website for teacher use.
In 2005, the project was officially launched when PVMA convened an African American Monument Committee comprised of African American citizens and area organizations. PVMA, working with the committee and using PVMA's library collections

documented 23 African American related sites in the Old Deerfield Village Historic Landmark District
created a first version of an interpretive map of these African American sites available on PVMA's American Centuries website
installed a Memorial to African Americans in Deerfield (designed by a local African American artist) as a large display piece for a new African American exhibit in PVMA's Museum.

In 2012-13, PVMA conducted a National Endowment for the Arts (NEA) Big Read of Zora Neale Hurston's novel, Their Eyes Were Watching God. Programming included book discussions throughout the valley; a presentation by Zora Neale Hurston's niece, Lucy Anne Hurston; an evening culinary and music event; and an off-site student art and history exhibit exploring quilting traditions from North and South, "Make What You Can of It."
From 2012-2015, PVMA hosted a number of living history events to bring New England's African American history to the public. In 2012, the Stone Soul Peter Brace Brigade joined Tory reenactors for a Patriot's Day event exploring the complicated stories of the American Revolution. That summer, and again in 2015, the Mass 54th Colored Troops joined Stone Soul for a July 4th reenactment.
In 2013, a National Endowment for the Humanities (NEH) Museums and Cultural Organizations Planning Grant supported realization of goals set by the African American project committee. This NEH project put the pieces in place for expansion of African American programming throughout PVMA, resulting in ongoing programs including

nearly 50 African American history lessons on our American Centuries website
new in-class and field trip programs on African American history
public concerts and public programs with an African American focus (e.g. Juneteenth Celebrations)
an interactive on-line map of historic sites available on American Centuries and a printed map that guides a walking tour available throughout the historic village
a joint lecture series with Historic Deerfield, Inc.
an African Americans in Early New England portal on American Centuries, bringing together and highlighting PVMA's primary sources, educational materials, videos, exhibits, and activities that illuminate this history
an African Americans in Rural New England database, which includes 2,400 records documenting 100 Africans (enslaved, became freed, and always free) who lived in Deerfield in the 18th century.

2013-2020: An additional activity of the 2013 NEH planning grant was creating a preliminary vision for a website addressing the lack of awareness of slavery in rural New England, with Lucy Terry Prince (c. 1730-1821) as a central figure. PVMA is currently exploring funding for this important new website, Lucy Terry Prince: A Window into African American Life in Early Rural New England.
2016-2020 Juneteenth Programming: In 2016, a series of musician workshops and rehearsals culminated in "A Legacy of African-American Music, People, and Place: 1700 -1920s" June 19th performance at Old Deerfield's Brick Church. In 2018, Metropolitan Opera tenor Irwin Reese and local pianist Julia Bady presented a Juneteenth concert of songs in a broad variety of styles.
In 2020, PVMA published a Juneteenth newspaper exhibit celebrating African American contributions to our nation's history. Learn more here.
PVMA has led NEH Landmarks of American History and Culture Workshops for teachers, which continue to develop our scholarship and resources as well as expand our audiences.
New exhibit in 2021 at Memorial Hall Museum: A Tale of Two Fiddles: By contrasting an historical depiction of Black performers to the lived experience of one contemporary Black musician and entrepreneur, we can see how perception and reality diverged from one another and left lasting impacts on the ways we view issues of race today.
July 11, 2021 – Lucy Terry Prince Day: a FREE Day in Old Deerfield with America's First African American Poet. July 11th is "Lucy Terry Prince Day," marking the bicentennial of the first known African American poet's death. Find detailed Event Schedule here.
Juneteenth Concert, June 19, 2022: A concert of song in celebration of Juneteenth! Juneteenth is the oldest nationally celebrated commemoration of the ending of slavery in the United States. Featuring: Tenor Irwin Reese and Julia Bady, pianist. Julia Bady and Irwin Reese have enjoyed collaborating since 2010 and have performed throughout the New York/New England region. For more information, please visit Julia Bady's website: www.juliabadypianist.com.