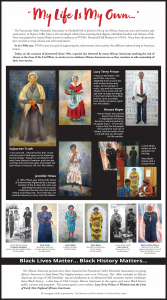 The Pocumtuck Valley Memorial Association in Deerfield MA is proud to lift up ten African American men and women, past and present, in Pioneer Valley history who developed vibrant lives ensuring their dignity, individual freedom and richness of life. They were painted by Louise Minks as artist in residence at PVMA's Memorial Hall Museum in 1993/4. Since then, the portraits have traveled to many schools and other institutions.
In its 150th year, PVMA renews its goal of supporting the achievements and creativity that different cultures bring to American history. On the occasion of Juneteenth, 2020  (June 19th, a special day observed by many African Americans marking the end of slavery at the close of the Civil War), we invite you to celebrate African Americans are as they continue to take ownership of their own stories.
BLACK LIVES MATTER
BLACK HISTORY MATTERS
The African American portrait series above launched the Pocumtuck Valley Memorial Association's on-going African Americans in Early Rural New England project, now in its 25th year. This effort included an African American site map of Old Deerfield; special installations in its Memorial Hall; seventeen teacher workshops about Black history; a data base of 18th Century African Americans in the region; and many Black history public concerts and programs. The current goal is a new website, Lucy Terry Prince: A Window into the Lives of Early New England African Americans.
A .pdf of the newspaper exhibit is available here.