We're grateful for our many creative partners. These libraries, organizations, and businesses serve residents up and down the valley–in Franklin, Hampshire and Hampden counties. Tilton Library in South Deerfield is our library partner and New England Public Media is both our media sponsor and a programming partner. Special thanks to N. M. Spears Library in Shutesbury for its role in helping to bring Emily St. John Mandel for a virtual visit to the valley.
We are joined by 22 Libraries in the Woods (see full list below), five All Hamptons Read libraries (see full list below), Jones Library in Amherst, Springfield City Library, Holyoke Library, Springfield Public Forum, The Care Center, UMass Amherst, Greenfield Community College, Holyoke Community College, Piti Theater, Exploded View, Great Falls Discovery Center, Musica Franklin, Pioneer Valley History Network, RiverCulture, The Rendezvous, Sweet Lucy's Bakeshop, and Boswell's Books.
If your organization or business would like to get involved, contact sdamkoehler@deerfieldmuseum.org or call 413-774-7476 ext. 100.
All Hamptons Read libraries:
Edwards Public Library (Southampton)
Emily Williston Memorial Library (Easthampton)
Forbes Library (Northampton)
Meekins Library (Williamsburg)
Westhampton Public Library
Libraries in the Woods libraries:
Arms Library (Shelburne)
Ashfield Belding Library
Buckland Public Library
Cushman Library (Bernardston)
Dickinson Memorial Library (Northfield)
Erving Public Library
Field Memorial Library (Conway)
Greenfield Public Library
Griswold Memorial Library (Colrain)
Leverett Library
M.N. Spear Memorial Library (Shutesbury)
Montague Public Libraries
New Salem Public Library
Orange Public Libraries
Pelham Library
Robertson Memorial Library (Leyden)
S. White Dickinson Memorial Library (Whately)
Shelburne Free Public Library
Sunderland Public Library
Tilton Library (Deerfield)
Warwick Free Public Library
Wendell Free Library
Back to NEA Big Read: Pocumtuck Valley – Events page here.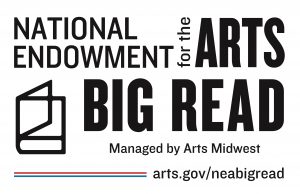 NEABig Read is a program of the National Endowment for the Arts in partnership with Arts Midwest.