PVMA and Piti Theatre present:
"NIGHT AT THE DEERFIELD MUSEUM!"
A film about African American History in Franklin County
Premiered on April 26, 2023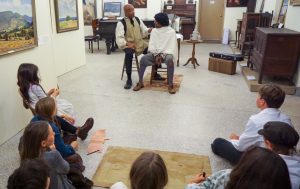 What was life like for African Americans in and around Franklin County in the 1800's? Of course, there is no simple answer. PVMA began researching and bringing to light local African American history over twenty-five years ago. Seven years ago, they began partnering with Shelburne Falls' Piti Theatre Company to create the Great Greenfield DinoFest which celebrates our region's role in the creation of the field of paleontology. This documentary looks at the moment when these two narratives intersect in the mid-1800's in Greenfield when early dino track discoverer Dexter Marsh lived near John Putnam, an African American entrepreneur and bandleader who is now considered the "father of contradance."
Featuring local children and teens from Piti's Youth Troupe performing alongside producer, writer and director William Forchion (The Polar Express, The Bronx is Burning) as well as CT actor Rodney Moore and Piti Theatre's Jonathan Mirin, Night at the Deerfield Museum tells the story of a group of children who break into PVMA's Memorial Hall Museum on Halloween night, 2022 and are transported back in time for a vivid look at the past. View the movie here.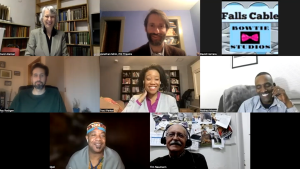 Blending documentary and narrative filmmaking, NATDM was followed by a moderated panel discussion featuring:
Traci Parker, PhD (moderator): Assistant Professor, Afro-American History, UMASS Amherst Graduate School
William Forchion (Djeli): Co-writer, Co-Director, Performer
Jonathan Mirin: Co-writer, Co-Director, Performer
Carol Aleman: Greenfield Historical Society/local history expert
Ray Radigan: PVMA Curator/Assistant Director and designer of the PVMA John Putnam exhibit
Rodney Moore: Connecticut Actor
Timothy Neumann: PVMA's Executive Director
View the discussion here.
About Piti Theatre Co.:
Piti Theatre Company is an award-winning touring troupe based in Shelburne Falls and Les Ponts-de-Martel Switzerland, founded in 2004 by husband and wife team Godeliève Richard and Jonathan Mirin. Piti (pronounced "pea-tea") is an ancient Indian (Pali) word translated as "joy" or "rapture." Piti creates original performances and community-building events that accelerate local transformation towards joy, sustainability and justice. https://ptco.org
The Pocumtuck Valley Memorial Association is Piti Theatre's fiscal agent.