We are located in the village of Deerfield, Massachusetts, but as the earliest historical society in the region, people from throughout Franklin County—as well as Hampshire and Hampden counties—entrusted their family stories to the Pocumtuck Valley Memorial Association. From fossils of dinosaur tracks to 20th century artifacts, this extraordinary collection continues to be enhanced by both donations and purchases.
Use the links on the sidebar to the right to learn about our Special Exhibits, Online Exhibits, and Highlights. You may also browse through some of the highlights of the collection here.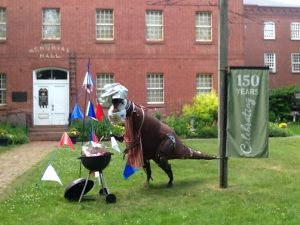 MEMORIAL HALL MUSEUM is open weekends in May; and Tuesday through Sunday from June through October. We look forward to welcoming you again in 2023.
Learn more about the museum here. Get directions here.
INDIAN HOUSE MEMORIAL CHILDREN'S MUSEUM is currently closed. We hope to reopen for school groups in spring 2023. Interested Educators may call for an introductory visit to learn about our programs: 413-774-7476, ext. 100.