2023 OPEN HOURS: Memorial Hall Museum will be open weekends from 11 am to 4:30 pm from April 15th through the end of May.
From June through October, we're open Tuesday through Sunday (closed Mondays).

In recognition of Deerfield's 350th anniversary this year, admission to the museum is FREE. Donations welcome. We look forward to welcoming you! Learn more about the museum here.
Within the museum's 19 rooms of art, history, and culture are several Special Exhibits listed below. For a glimpse of Past Exhibits, click here.
.
2023 SPECIAL EXHIBIT
Deerfield Now and Then
Deerfield Town Hall in May and June. Exact dates TBD.
Memorial Hall Museum in September and October. Exact dates TBD.
.


In recognition of the Town of Deerfield's 350th anniversary, this exhibit will show the town's changes over time.  Historic photos from the PVMA collection of scenes throughout Deerfield have been recreated, with the help of students from Frontier Regional High School.  Each tells an individual story to transformation over time.  Taken together, they show a town developing and growing while preserving its past.
---
2022 SPECIAL EXHIBITS
After the Attack
Life, Loss, & the Legacy of Eunice Williams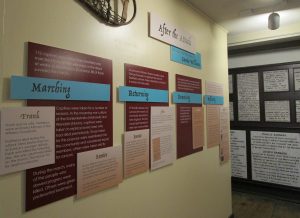 The same cultures that came together in war also came together in peace. This redesigned exhibit tells the complex story of cross-cultural connections and the lasting impacts of the 1704 Raid on Deerfield.
1704 Gallery – 2nd Floor
---
In With the Old
In With the New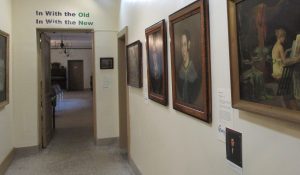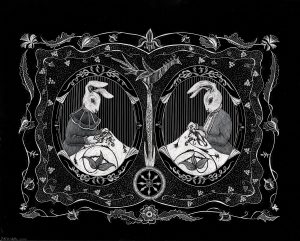 There are many reasons that works of art end up in a museum's collection; some are obvious, others may surprise you. This exhibit looks at a number of recent additions to the museum's collection, and why they were added.
Hallway – 1st Floor
.
---
ONGOING SPECIAL EXHIBITS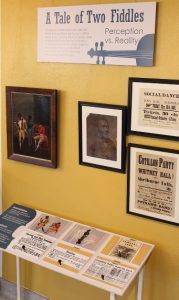 A Tale of Two Fiddles
Perception vs. Reality
By contrasting an historical depiction of Black performers to the lived experience of one contemporary Black musician and entrepreneur, we can see how perception and reality diverged from one another and left lasting impacts on the ways we view issues of race today.
Music Room
.
.
---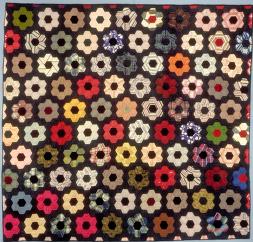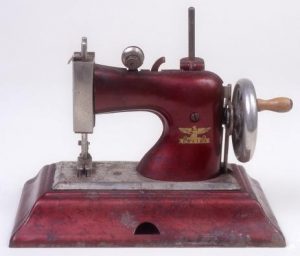 Fabric of Time
New England History Told Through Domestic Art
This new exhibit at Memorial Hall Museum looks at the history of quilting in New England and explores how quilters expressed their aspirations and observations through their art. With 20 quilts and related objects spanning more than two and a half centuries, visitors can see the enduring traditions and technological advancements and learn how they impacted the creative forces behind some of New England's domestic art.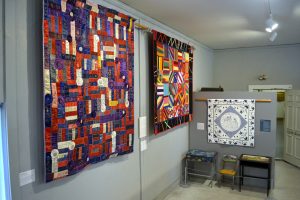 We're proud to be partnering with Sisters in Stitches Joined by the Cloth—a guild keeping the traditions of African American quilting alive. We're honored that they are loaning us "Roots," a strip-pieced quilt made entirely from donated fabric and created collaboratively by the guild members. It will be a centerpiece in our new Fabric of Time exhibit, which looks at the enduring values of New England women through the quilts they created.
Listen to our Curator discuss these stories on MassAppeal here! and read about the exhibit in the Greenfield Recorder here.
---
Edward and Orra Hitchcock
He was one of the most accomplished scientists of the 19th century. She was a scientific illustrator whose work is still acclaimed today. This exhibit, in the very room where they met, looks at their lifelong collaboration and their many accomplishments which still have an impact in the 21st century. Produced in conjunction with PVMA's website Impressions from a Lost World: www.dinotracksdiscovery.org.
.
---
---
RECENT PAST SPECIAL EXHIBITS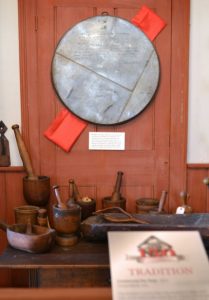 PVMA 150
In honor of the 150th anniversary of the founding of Pocumtuck Valley Memorial Association, Memorial Hall Museum looks back at values of its founders. By highlighting 15 objects throughout the museum which were donated at its founding, this exhibit asks visitors to consider why the founders preserved these objects for us, and what objects we should preserve for those visiting 150 years from today.
---
The Effect of the Mist
From 1885 to 1920, the Misses Allen—Frances and Mary— traveled the Deerfield region capturing small-town life and agricultural landscapes during the four seasons and in all kinds of weather. They also visited California, as well as Great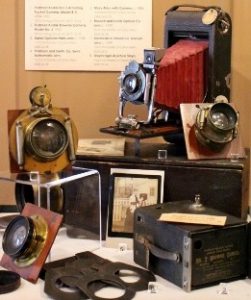 Britain where Mary noted their approach, "It rains – the soft kindly English rain – but we stop and photograph in the midst – the effect of the mist being too beautiful to lose."
This exhibit features Allen Sister landscapes of Deerfield and beyond.
---
Self-Supporting Women
Self-Expression by Franklin County Women in the Pre-Suffrage Era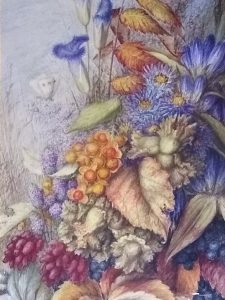 On July 25, 1919, Massachusetts became the 8th state to ratify the 19th amendment, granting women the right to vote. For women who died before ratification, suffrage was a right they would never be granted. Despite living under a government that denied them the vote, they found other outlets for expression and many accomplished remarkable things. Come view some of the women artists of Franklin County who lived before "votes for women."
---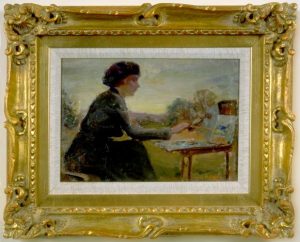 Living in Our Landscape
Whether for recreation or cultivation, people have played a role in shaping the environment for thousands of years. This selection of paintings from the museum's collection looks at the human presence in our local landscape.
---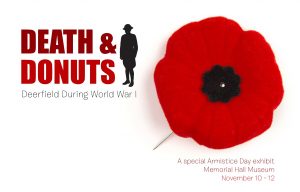 THREE DAYS ONLY
November 10–12, 2018
11 am to 4:30 pm
Free admission for this special exhibit
Memorial Hall Museum will open for Veterans Day weekend to celebrate the 100th anniversary of the end of World War I.
Get a rare glimpse into the lives of the local men and women on the front lines. Uniforms, official correspondences, personal letters, and other artifacts bring the reality of the war and the Armistice to life. Learn about memorial poppies and pin one on the board to honor someone special.