The Effect of the Mist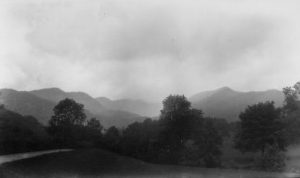 From 1885 to 1920, the Misses Allen—Frances and Mary— traveled the Deerfield region capturing small-town life and agricultural landscapes during the four seasons and in all kinds of weather. They also visited California, as well as Great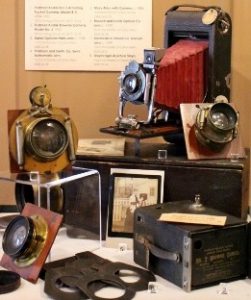 Britain where Mary noted their approach, "It rains – the soft kindly English rain – but we stop and photograph in the midst – the effect of the mist being too beautiful to lose."
This exhibit features Allen Sister landscapes of Deerfield and beyond.
.
Music Room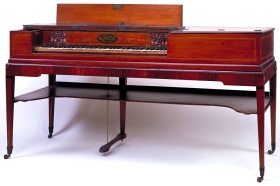 In celebration of the 100th anniversary of Memorial Hall Museum's 1916 wing, the Music Room has been renovated and reinstalled with three centuries of musical instruments, furniture, and artwork. Franklin County's first piano, Hadley chests, and portraits are featured in this special exhibition.
Children of Deerfield: Photographs by Francis and Mary Allen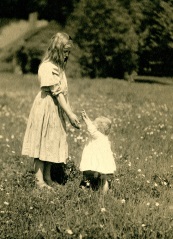 Celebrated as the "foremost women photographers in America" in 1901, Frances and Mary Allen's 1885 to 1915 photographs provide a unique glimpse of childhood in rural New England.  This exhibition features idyllic photographs of children on the farm, at play or in costume in old Deerfield.
.
Relics and Curiosities in Memorial Hall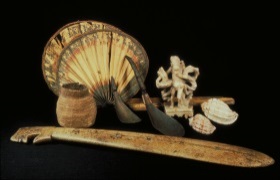 Conch shells used for dinner horns? Wreaths made from human hair? Weapons made with shark's teeth? Out-of-the-ordinary curios and keepsakes are featured in an exhibition with an emphasis on intriguing narratives and "otherness."  This exhibition features rarely seen relics and curiosities gathered and preserved in Memorial Hall since its beginnings.
.
A Native American Perspective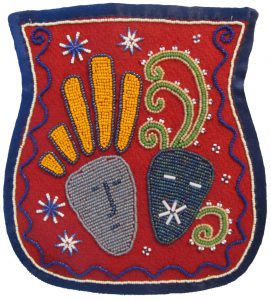 Exquisite portraits of contemporary and historic Native bead artists by Gerry Biron, artist and organizer of the Made of Thunder, Made of Glass exhibits, accompany beadwork by Wabanaki/Canadian Metis artisan Rhonda Besaw and Oneida artisan Karen Ann Hoffman in the renovated Native Room. Image: Petroglyphs by Rhonda Besaw, 2009
Made of Thunder, Made of Glass II
Continuing Traditions in Northeastern Indian Beadwork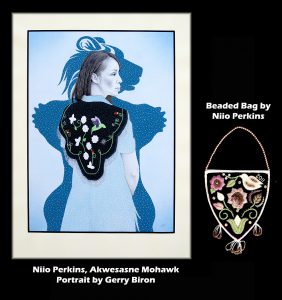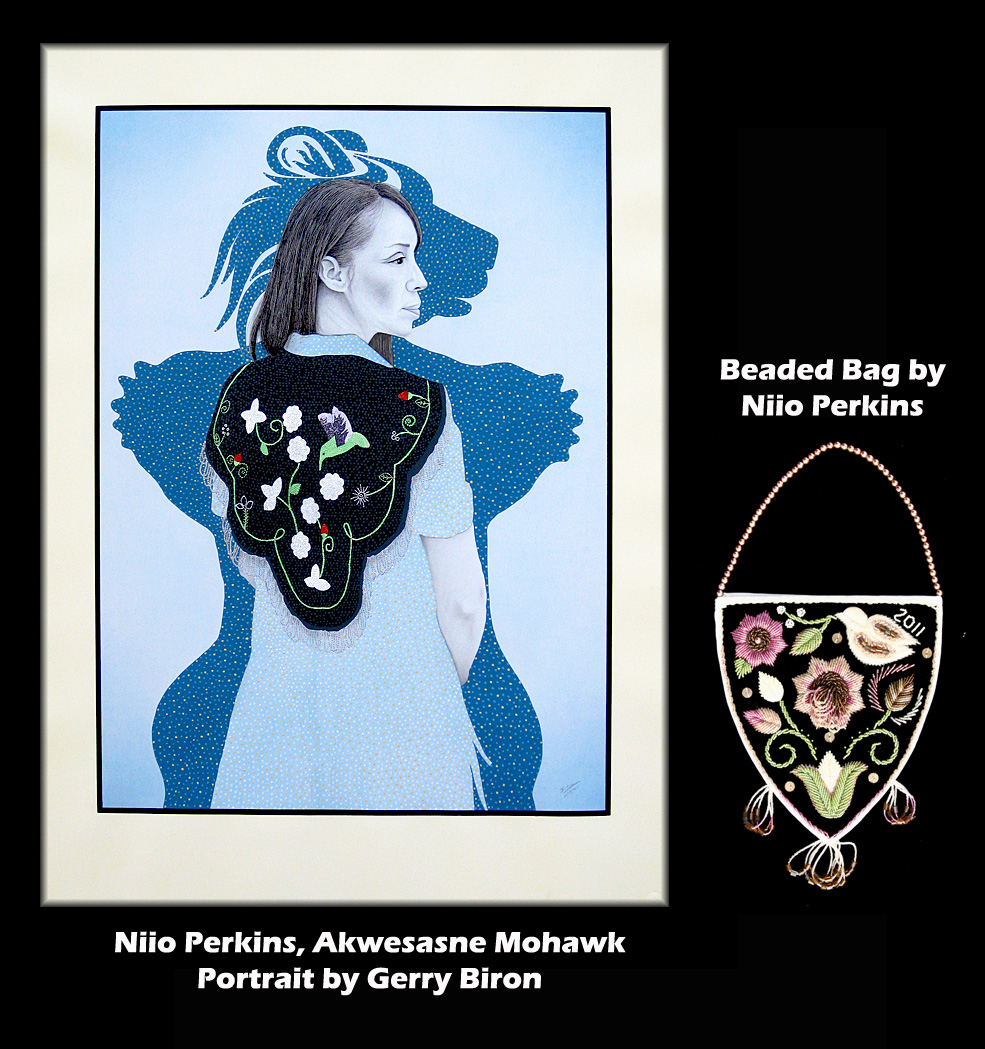 May 30 – November 1, 2015 Intricate, colorful, and symbolic, beadwork is a traditional form of Native artistic expression.  In this exhibition, over 250 extraordinary examples of contemporary and historical Native American beadwork made in the Northeast between 1800 and 2015 are accompanied by compelling portraits of the beadwork artisans by Gerry Biron.  On view at Memorial Hall Museum, Deerfield, MA.
.
Robert Strong Woodward: Artist For All Seasons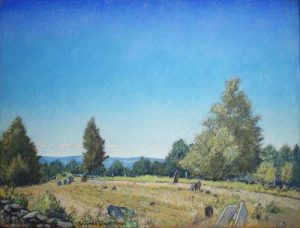 September 5 – November 1, 2015 The realist paintings of Robert Strong Woodward (1885-1957) are marked by strong lines, beguiling compositions, and pragmatic colors. Featuring landscapes and scenes of rural Buckland, Massachusetts, dating to the 1930s, this special exhibition celebrates New England regionalism.  Organized by the Friends of Robert Strong Woodward, on view at Memorial Hall Museum, Deerfield.
Robert Strong Woodward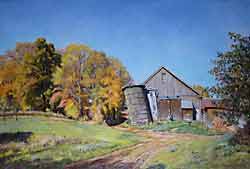 Open through October 13th, 2014: There will be a special exhibition of paintings by New England artist Robert Strong Woodward (1885–1957) at Memorial Hall Museum, presented by the Friends of Robert Strong Woodward. Museum admission grants access to both the exhibition and the museum's collections.
.
At Arms' Length: Photographs by Masha Arms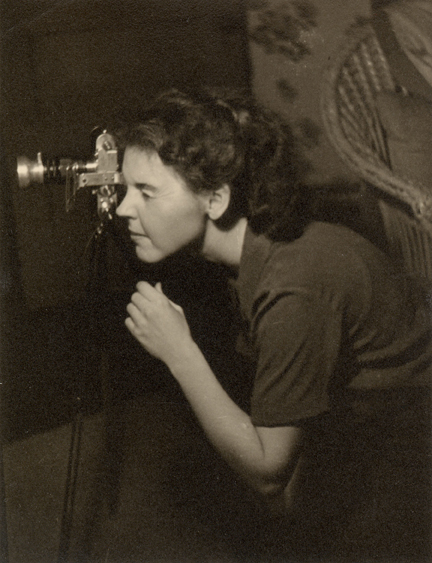 An exhibition of 28 gelatin silver photographs dating from 1936 to 1950 of Depression-era people, children, fashion models, and Robert Frost and his family. Using the newly introduced 35mm Leica—a small and unobtrusive camera favored by photojournalists—Masha Arms mastered light and composition to create compelling portraits, figure studies and landscapes. After teaching photography in Washington, DC, in 1941 Arms moved to Greenfield, Massachusetts, where she actively pursued photography for another twenty years.
.
Changes on the Horizon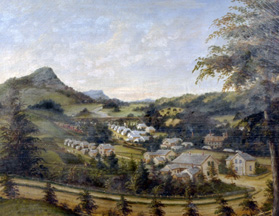 Spring 2009–Fall 20013
An exhibition of paintings, prints, maps, stereographs, and postcards depicting Franklin County's ever-changing landscape. Looking at the period from about 1850 to 1950, we see how industrialization (Russell Cutlery, Shelburne Falls Works, New Home Sewing Machine), transportation (horse and buggies, railroads, trolleys, automobiles), roadways and bridges transformed the rural landscape.
Covered Bridges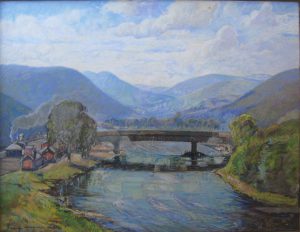 Spring 2009–Fall 20013
Clifton Johnson began documenting Franklin County's covered bridges. Painters were also drawn to these local landmarks. Although painters Marie Day Alexander, Clara Alquist, Kenneth Stinson, and Robert Strong Woodward looked to the same subject matter, each of these artists made distinct use of light, color, and texture to create their paintings. Little did the artists know that some of the bridges they painted would not survive more than a few years.
Don't Smile for the Camera: Another Angle on Early Photography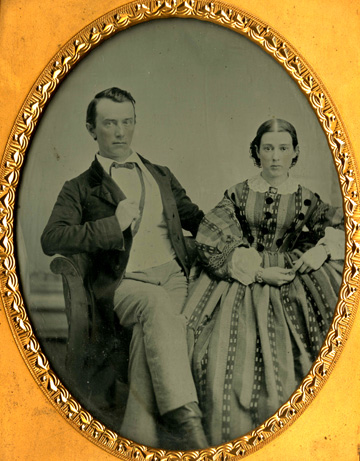 Spring 2008–Fall 2009
Prompted smiles have been part of our cultural consciousness for the past hundred years. These facades of happiness contrast starkly with the solemn expressions in early photographs. This exhibition of seventy five 19th to early 20th century photographs challenged perceptions of how people should pose for the camera. See and read more.
2009 Sixth Biennial Old Deerfield Quilt Challenge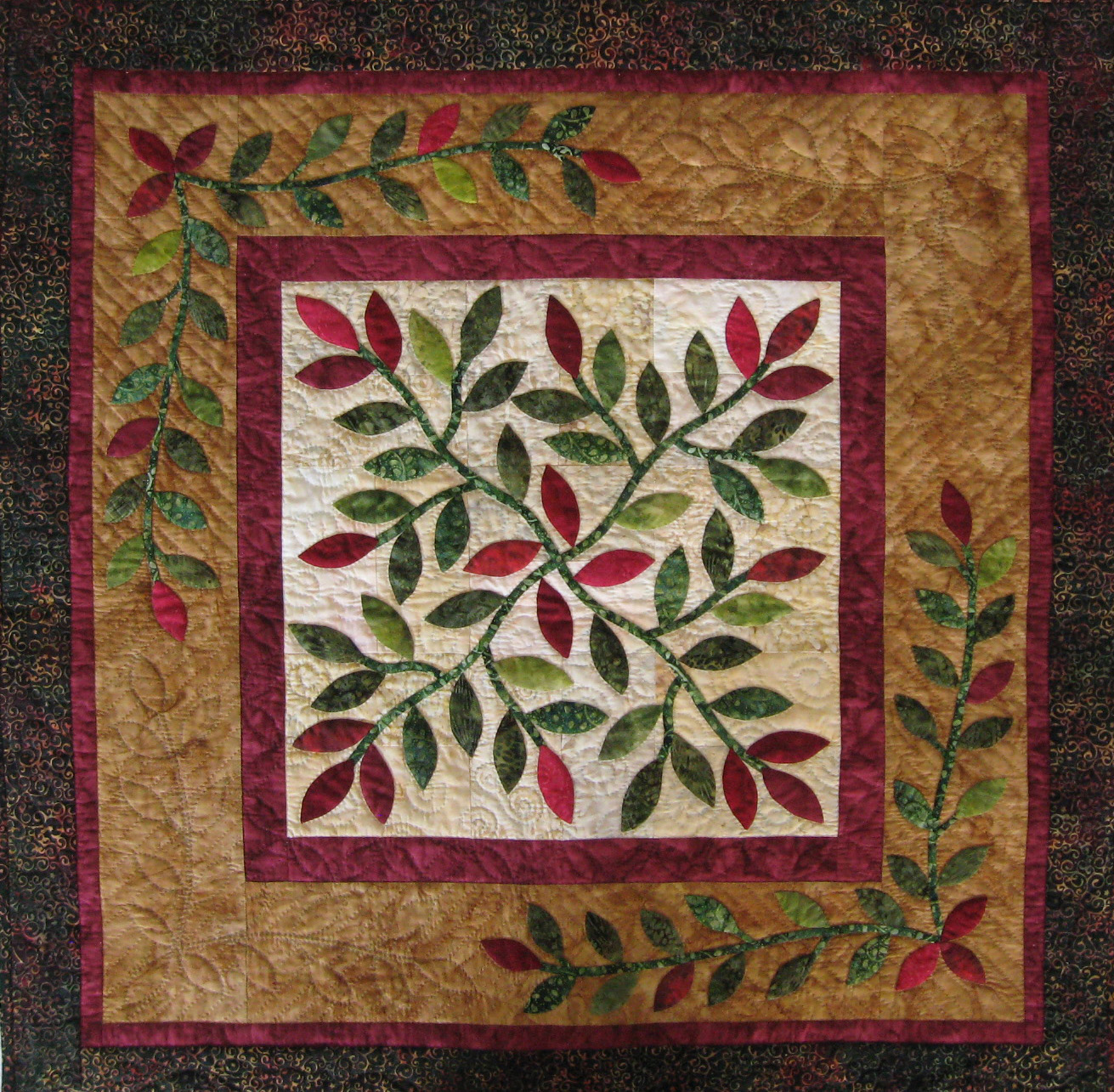 Spring 2009–Fall 2009
For more information about this biennial favorite, click here.
typed in white here because I can't get a line space otherwise
Made of Thuder, Made of Glass: American Indian Beadwork of the Northeast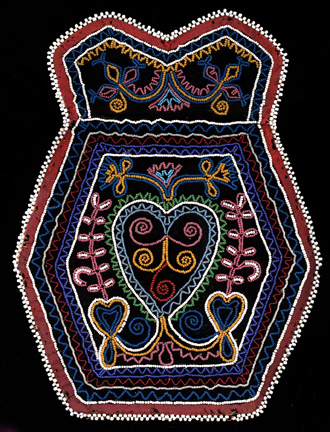 Spring 2007–Fall 2007
Created between 1800 and 1915, this exhibit featured beadwork of artistic Native American women living in New England, New York, and the Maritime Provinces. Twelve contemporary paintings of Natives with the beadwork by Gerry Biron, a Vermont artist of Mi'kmaq descent, accompanied the beadwork. Read about the exhibit, from the collection of Gerry Biron and JoAnne Russo, here.