To visit us in Old Deerfield take I-91 to Exit 24 (northbound); or Exit 25 (southbound). Then go 6 miles north on Routes 5 & 10. The PVMA campus is on Memorial Street. View Mapquest map here. The Indian House Memorial Children's Museum is located nearby at 107 Main Street.

---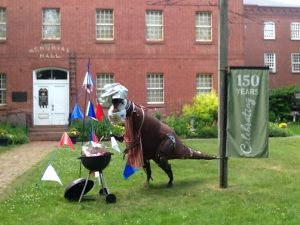 MEMORIAL HALL MUSEUM is now closed for the season. We extend a special thank you to our visitors this past season for helping to keep our community safe by following COVID-19 protocols. We look forward to reopening for the Spring/Summer 2021 season. Get directions here. 
Follow our Facebook pages for musings, exhibit preparations, and the latest updates.
---
The Indian House Children's Museum is now closed for the season. It is typically open weekends August through Columbus Day, 11:30 am to 4:30 pm. The first floor is open for hands-on activities. Learn more here.  Admission is a choice on the Memorial Hall Single Building ticket. All others: $6 for adults; $3 for students (ages 13-21); children 12 and under are free. The door is kept locked, please ring bell for admission.
---
 The PVMA library, part of the Memorial Libraries (the PVMA library and Historic Deerfield library) is open year-round, but due to current COVID-19 restrictions, is open by appointment only. To make an appointment call 413-775-7125 or email library@historic-deerfield.org. Holiday 2020 hours: The library is closing on Dec. 24 at noon and will reopen to the public on Tuesday, January 5.  

---
See our Events Calendar here. Visit our friends and neighbors in the Deerfield area.