To visit us in Old Deerfield take I-91 to Exit 24 (northbound); or Exit 25 (southbound). Then go 6 miles north on Routes 5 & 10. The PVMA campus is on Memorial Street. View Mapquest map here. The Indian House Memorial Children's Museum is located nearby at 107 Main Street.

Come explore the museum's 19 rooms of art, culture and history!
MEMORIAL HALL MUSEUM IS NOW OPEN FOR THE SEASON
We are pleased to announce that Memorial Hall Museum opened for the season on Saturday, July 18th. We look forward to welcoming visitors from 11 am to 4:30 pm, Tuesdays through Sundays (closed Mondays) through October.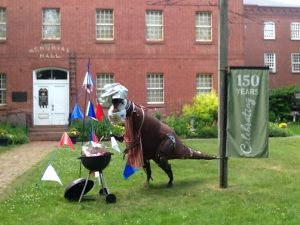 Masks (available at the front desk) and social distancing are both required in all museum spaces, but timed ticketing or advance notice of your visit is not needed. Please keep everyone's health and safety in mind during your visit and understand that policies may change as COVID-19 reopening phases evolve.
To celebrate the Pocumtuck Valley Memorial Association's 150th anniversary, admission this season is FREE! (Donations greatly appreciated, but not required.)
Follow our Facebook pages for musings, exhibit preparations, and the latest updates.
---
The Indian House Children's Museum is now closed. It is typically open weekends August through Columbus Day, 11:30 am to 4:30 pm, but due to COVID-19, it will remain closed through at least the month of August. A decision about opening in September is pending. The first floor is open for hands-on activities. Learn more here.  Admission is a choice on the Memorial Hall Single Building ticket. All others: $6 for adults; $3 for students (ages 13-21); children 12 and under are free. The door is kept locked, please ring bell for admission.
---
The PVMA Library is open year-round, but due to current COVID-19 restrictions, it is open by appointment only. To make an appointment call 413-775-7125 or email library@historic-deerfield.org.

---
See our Events Calendar here. Visit our friends and neighbors in the Deerfield area.